Dysphagia is a feeding / swallowing disorder that occurs in the mouth, pharynx, larynx and/or esophagus, indicating a delay and/or disorder in the development of eating/drinking skills. This includes difficulty with ingestion of food and liquid, saliva management, and taking oral medications.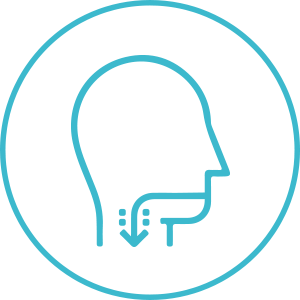 What are the symptoms of a
Swallowing Disorder?
Food sticking in their throat
Having to change what type of foods or liquids are eaten
Coughing or choking with meals
Difficulty with chewing or initiating swallow
Difficulty with management of own oral secretions
Extra effort to eat, chew or taking a long time to eat a meal
Feeling of food being stuck in esophagus
Food or liquids leaking out of mouth
Gurgly vocal quality after swallowing
Having to cut food into smaller pieces or avoiding certain foods because of trouble swallowing
Voice changes (hoarseness)
Holding food in mouth or finding food in mouth long after a meal is complete
Shortness of breath during or after meals
Reflux of food or liquids back up into mouth or back of throat